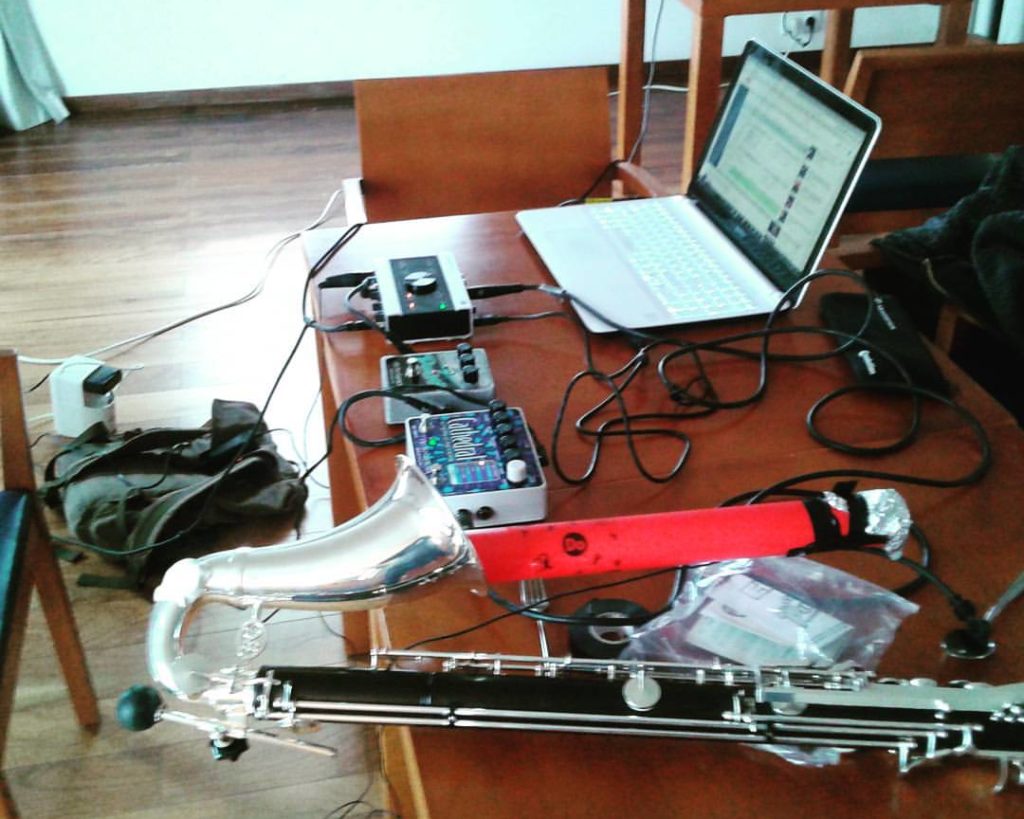 I met Murat Çolak in Graz, during the Impuls Festival 2014, and I was right away impressed by the personal sound imagery that emerges from his music. After some preliminary work via Skype, we met in Madeira at the Estalagem da Ponta do Sol Residency for Contemporary Music and Electronics, and started working there on a piece for prepared bass clarinet and electronics.
Preparation was for Murat the possibility to defamiliarize the instrumental sound, working with a known instrument but with unknown sounds. As we were working together, I remember his concern that the chosen sound would have some kind of "unheard-of" quality, refusing those that would lead the listener to a well-known sound domain.
His first goal was finding a lower and less defined sound to work with. For this preparation we chose:
a plastic cylinder-shaped tube (we used a boomwhacker musical tube)
Patafix (Blu-Tack, reusable putty-like pressure-sensitive adhesive)
Inserting the boomwhacker pipe into the bass clarinet's bell and sealing the vent hole and the interstices with patafix, the lowest note of the instrument, the written C (usually sounding Bb), is lowered to sounding pitch Ab. The sound of this low note resembles that of a contrabass clarinet, but less concrete because of the material heterogeneity (probably the sound quality could change a bit using different materials to lenghten the bore). The preparation affects the lowest note only, so leaving all the other notes "unprepared".
Apart from these 'prepared' low tones, Murat chose other sound materials that, despite being produced with the 'ordinary' instrument, question the well known sonic image we have of bass clarinet: among the others sounds, teeth on reed, quasi-sine-tones from the altissimo register, air sounds of different range. The performer is asked to play extremely short and clearly characterized samples, that are recorded by a microphone and instantly processed by two pedals, an infinite reverb and a tremolo. The processed sound is then controlled by the performer, through the manipulation of the pedals' setting, resulting in a music made of drones that slowly and constantly evolves, on the edge between collapsing and exploding.