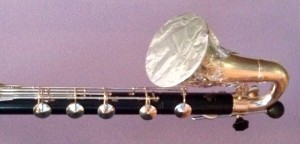 When I first tried to prepare my bass clarinet's bell with aluminium foil I thought that only the lowest note(s) would be affected. Instead, a long series of notes from the lowest, middle and upper register are involved, making this preparation much more interesting than I expected. In this post I will discuss aluminium foil over the bell of a bass clarinet, but as you can imagine this preparation can be placed over every open hole and on every clarinet. Try it out!

First of all, I wrapped the bell's opening with aluminium foil. You don't need to tape it up, just fold the foil and it will easily adhere to the bell.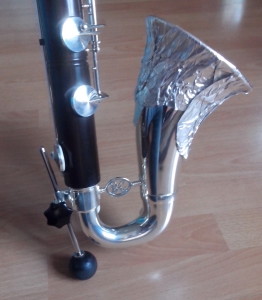 Aluminium foil 'sounds' when the air column that vibrates inside the instrument is long enough to radiate its energy all the way to the tin membrane. This happens, for instance, when the holes are all closed (written low C, sounding Bb a major ninth below) or almost entirely closed (written low C#).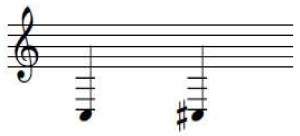 Low C:


Low C#:

If we play a C# and a C with the same intensity, aluminium foil will be less present in the C# than in the C, because part of the vibration radiates through the C#'s only open hole before reaching the foil, so that the aluminium sollicitation is weaker. Nevertheless, the rattle is audible…and usable! Opening another hole or more, for instance playing a D, will prevent any aluminium rattle (vibration radiates through the open holes before reaching the foil).
If we close all the holes (as if playing our low C) and then open one or two top holes (with thumb or index finger of the left hand), more rattling sounds are possible, in the range G-Bb (see the picture, sounding one ninth below written). In this case, the aluminium foil rattles because the bore is "somehow" closed until the bell (all the bottom holes are closed and just one or two top-holes/on top are open). The same notes (G-Bb) can of course be played with their 'ordinary' fingerings as well, and in this case, since the fingerings have open holes in the upper and lower part of the instrument, these pitches will sound without the rattle. In the audios I alternate the "closed" (with aluminium sound) and "open" (ordinary sound) positions.

G:


G quarter tone higher:

G#:

A:

Bb:
Harmonics
All these fundamentals (C, C#, G³-Bb³) have natural harmonics which follow the ordinary clarinet/closed pipes sequence, with odd harmonics only. So, for instance, the low C has, as first harmonics, G, E, Bb, D…and so on. When playing these notes as harmonics of C, fingering the low fundamental (in this case C) and adjusting air flow and embouchure to get the upper partials, these harmonics will rattle as well (because the bore is closed until the bottom). These notes, as for the G³-Bb³ with closed fingering, can also be played with their "ordinary" fingerings, as harmonics of other "shorter" fundamentals, that having open holes before the end of the instrument will not make the aluminium rattle. In the audios I alternate these rattling and ordinary sounds.
Summing up, aluminium foil preparation on bass clarinet's bell affects: C, C# and closed positions for G³, G³ quarter tone, G#³, A³, Bb³ and all their harmonics (so it's actually a lot of different pitches!).


Multiphonics
"Tinning" spectral multiphonics are possible on all the found positions.
Aluminium only
Aluminium foil sounds even just breathing in and out (without making the reed vibrate), because the membrane is pushed forward and sucked in by the air flow.
Blending aluminium with clarinet's sound
The two sound sources, clarinet and aluminium foil, sound a bit "separated": clarinet's sound is smooth and harmonic, aluminium foil, on the contrary, is extremely inharmonic. So, when we listen to their combined sound, we still hear their superposition rather than their blending.
I tried to use flutter-tongue or/and voice, to make the clarinet's sound more inharmonic and so helping a bit their meld.
Flutter-tongue on low C:


Different combinations of sound, voice, flutter-tonguing and rattling aluminium.
All dynamics are possible, aluminium loudness increases (up to a certain level) and decreases following the clarinet's intensity. Articulation works as with ordinary sound. All kinds of staccato, flutter-tonguing, slaps and other different articulations are possible.
I would like to try some humming/singing/talking sounds with and without mouthpiece, think it could be interesting…